7 Facts I Bet Money You Didn't Know About Cardi B
Spending hours in front of a computer screen and keyboard writing every day can leave me drained. It's a mental work out! I've incorporated music breaks in my day to day. Yes, I have dance breaks between Zoom meetings.
And who do I bounce around my flat to the most? Cardi B! My neighbors hate me.
The up amd its stuck powerhouse is a rapper, songwriter, and television personality that I just love! She is all the ratchet and loud that I can't be! The 5 foot 3 inch Manhattan-born ball of fire is a favorite for a lot of people out there since blowing up after Instagram and Vine videos went viral a few years back. How could you not love Cardi?! Maybe it's because you don't know her or her background! Check out 7 facts below that I bet money you didn't know about Cardi B but I know will make you fall in love with her loud personality even more.
7. Cardi B AKA Belcalis Marlenis Almánzar
Yea, I can't pronounce it either. Cardi B's real name is a mouth full, so I know it would definitely not work out on stage. The origin of her stage name is kind of credited to her baby sister. With her sister's name being Hennessey, as she was growing up people would call her "Bacardi." On the Wendy Williams show, she shared that she "shortened it to Cardi B. The 'B' stands for whatever, depending on the day."
6. She Doesn't Have a Driver's License
She may rap about and twerk on expensive cars, but she isn't legally able to drive any of them. She hasn't gotten her license because driving just... scares her. She currently owns five extremely expensive cars, to include Lamborghinis, that she can't even drive. Her response when asked why she owned so many was simply: "to take pictures with." Don't believe me? Not only has she openly talked about her lack of driving experience, she proved she couldn't on an episode of Carpool Karaoke. They even tried to teach her on the show and she ended up hitting three flags and knocking over a camera! Check out the video for yourself.
5. She Use to work at an Amish Market
Cardi B once was a cashier at an organic market in TriBeCa. However, she was fired from her job because she would always show up late and gave co-workers entirely too many "discounts." The manager from that market was actually who suggested she become an exotic dancer. Cardi B shared in an Fader Interview, "he was like, 'You're so pretty, you got a nice body.' He told me to go across the street to New York Dolls, the strip club." She was hesitant at first but after figuring out that she could make what she did at the market in a week in a single day at the club she was hooked!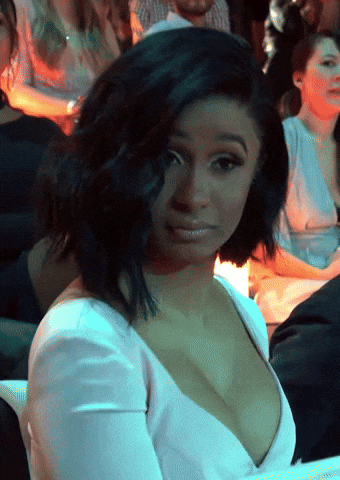 4. Being a Stripper Saved Her Life
She by no means promotes dancing as a lifestyle for most but she talks a lot about her life as a dancer. Cardi has said without it she may not be here today. At 19, before she first started down her dancing path, she had been kicked out of her mom's home. She was forced to move in with an abusive and unfaithful boyfriend who lived in a filthy home with his sisters. There were bedbugs and her asthma began to worsen due to the pit bulls that lived with them. She felt trapped knowing his sisters were stealing the little money she made from her cashier job. It was dancing that gave her the confidence and finances to walk out on her ex...permanently.
3. She Didn't Dance in the movie Hustlers Because of Surgeries, Not Offset
I personally thought she didn't want to show off her stripper skills in the new movie Hustlers out of respect for Offset, but nope that ain't even it. It was because of recent plastic surgery! Despite her experience, she said she couldn't really show her skills on the pole like she wanted while filming knowing how it would effect her body. She told Entertainment Tonight "I was like, 'This is my moment to shine, and I can't shine because I can't climb!'"
2. Cardi B Went to College! ...Then Dropped Out
People love to say that Cardi B is just an uneducated stripper from the Bronx. But don't judge a book by its cover. Cardi did finish high school and went on to attend college for a little while. She wanted to go on to be a history teacher if you can believe that but had to drop her classes because she just could not afford it anymore. Mrs. Cardi B hasn't given up on her dream of going back just yet: "Maybe when I'm older I'll have the time to go to college. Why not? It's never too late to make your dreams come true." I hate she had to drop out but hopefully she gets to live her dream one of these days. Just imagine your history teacher being Cardi B. What would it be like in her class?
1. Cardi B Got Plastic Surgery at 19
Cardi has never hid all the surgery she's gotten since becoming a mega star OR before. She has admitted that her first time under a knife was at the age of 19 while working as an exotic dance club in New York. She got "ILLEGAL" non-FDA Approved butt injections and implants that weren't administered by a doctor (don't try this at home kids) that she was able to fund from the money she was making from the strip club. She stated she was just desperate from the pressures of being a dancer. More recently, she's upgraded her implants, legally this time, and joked on an Instagram post that she got them because she can't swim and needs to use them as floats.
Did you know all, or any, of these facts about Queen Cardi? Did I miss any? Comment below and let my know your thoughts!